Welcome to our July Homemover Pulse where we take the pulse of the UK property market and give a snapshot of current homemover activity.
UK property market update - July
July's figures continue to demonstrate that the owner-occupied sector appears to be largely detached from the woes that are befalling the wider economy. Demand remains strong and the latest house price index from Halifax shows property prices have risen again, with a typical property now costing £294,845.
There have been further improvements in property supply, with an increase in new instructions of over 5% in every UK region. Transactional levels remain greater than in 2019 and we are yet to see a sharp re-calibration of the residential property market in either price or volume.
However, Savills reports a drop in buyer enquiries and mortgage approvals, which could be indicative of buyer demand beginning to cool.
The current state of the owner-occupied property market
Currently, there are 215,367 residential properties available for sale and 337,706 properties with sales agreed across the country. There have also been 290,811 completions in the last three months. In the chart below, we have broken down these key stages of the home buying journey - new instructions, sale agreed and completions - by region of the UK.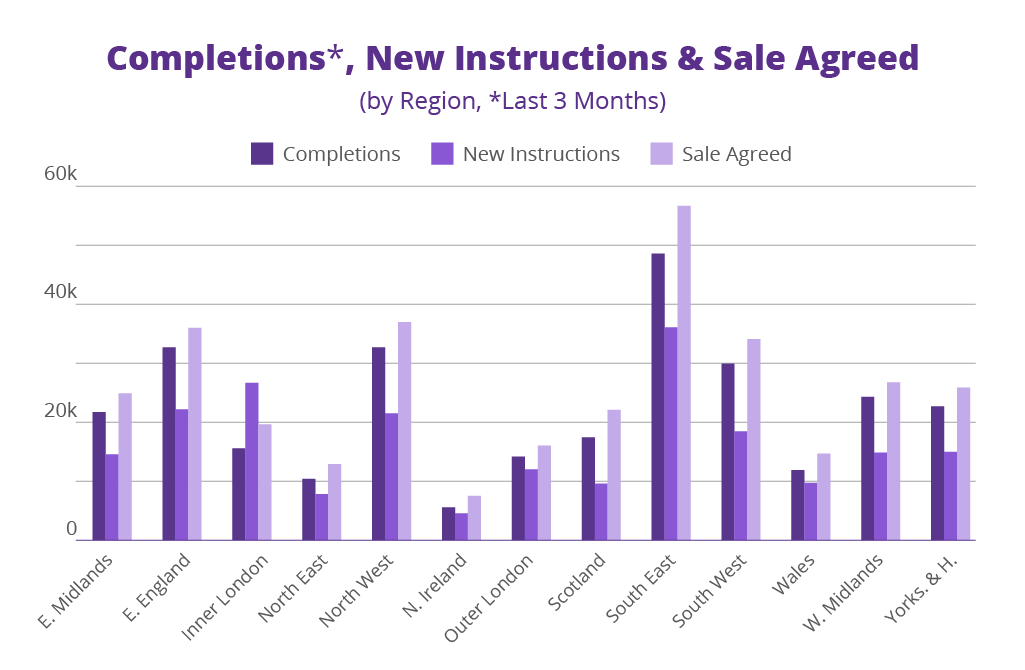 There's no sign of the South East slowing down as it remains the most active region with high levels in new instructions, sales agreed and completions.
New instructions have increased by a healthy amount, whilst sales agreed and completions have levelled off this month.
Current new instructions
Our new instructions data covers all residential properties in the UK which are currently available for sale. There are currently 215,367 properties listed for sale across the UK.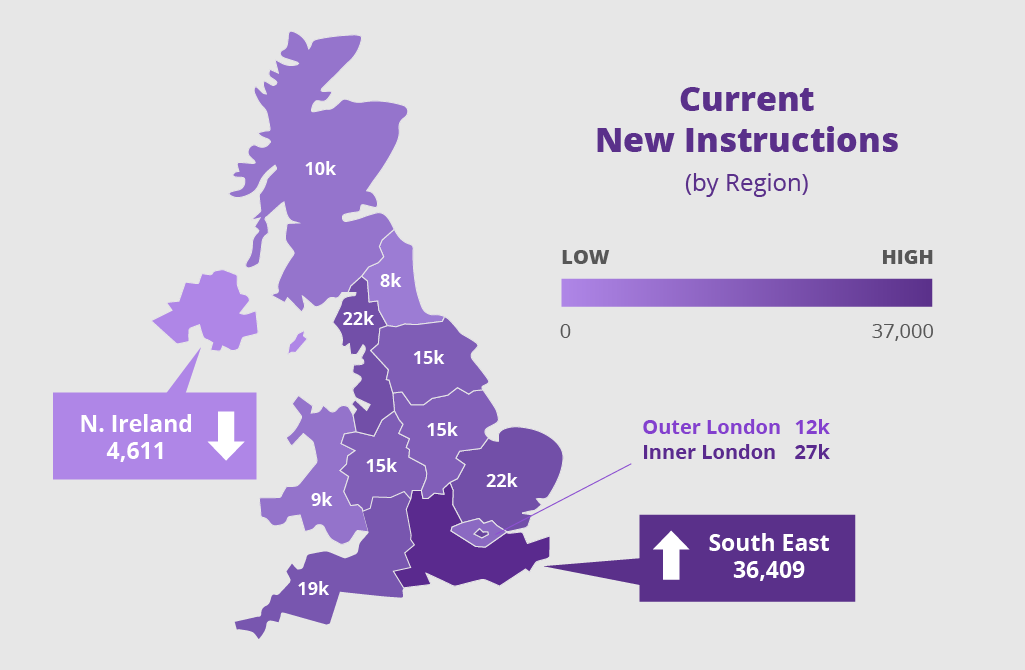 Total new instructions have continued to climb, rising by 9.06% in comparison with last month. Whilst there is still a way to go to bring supply and demand back into balance, this is a really positive sign.
Looking back to March figures, when there were just 172,589 new instructions, we can see there is now almost 25% more property for sale across the UK which is great news for buyers. However, property supply still varies per region, giving some areas the luxury of more choice than others.
The South East continues to have the highest number of houses currently available for sale, followed by Inner London and the East of England.
For another month, every UK region has shown month-on-month growth in property supply. Inner London had the lowest increase, but even that stood at almost 6%.
The largest increases in new instructions have been seen in the South West with 12.46%, Wales with 11.27% and the North West and Northern Ireland both with over 10% increases.
Current properties with sales agreed
Our sales agreed data covers all properties in the UK which are currently at the start of the conveyancing journey and are sold subject to contract. Sale agreed figures can be seen as an indicator of present demand, showing where people are currently in the process of moving to. Currently, there are 337,706 properties across the UK with sales agreed.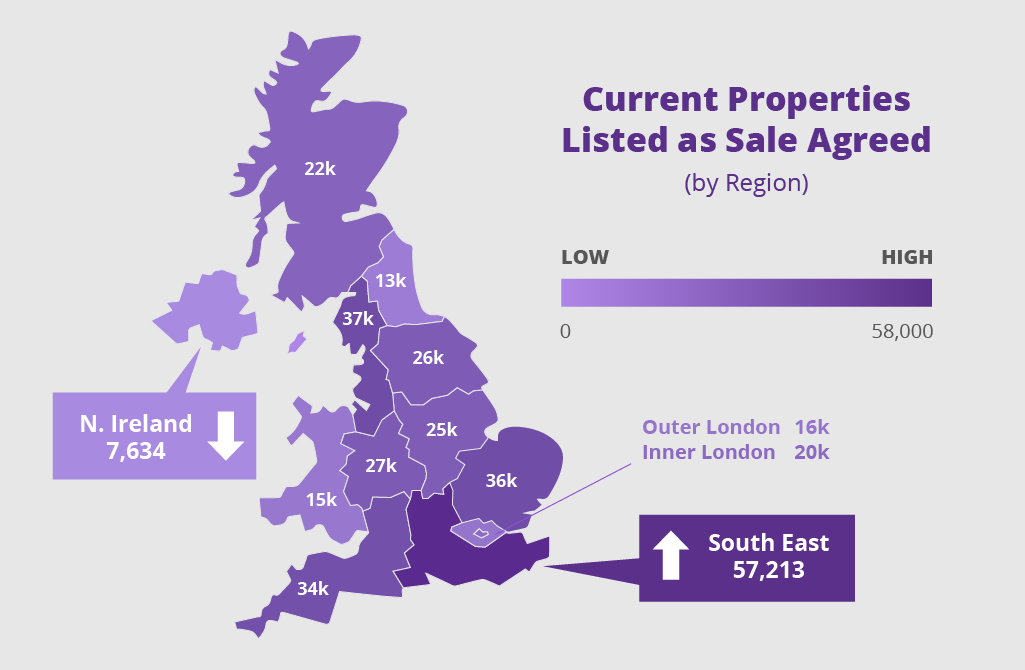 Sales agreed decreased by 6.6% compared with June's figures, which were the highest we'd seen in some time. The only regions that saw a slight increase in sales agreed were Northern Ireland and Scotland.
With a significant increase in new instructions and a 6.87% decrease in sales agreed in the South East, property availability in this region is improving so buyers won't have to move quite as quickly to secure their property as they have in recent months. Completions in the region have also declined for the second month in a row, moving closer to a sense of equilibrium in this region that's felt the pinch of property supply problems for so long.
Completions in the last three months
Our completions data covers all residential properties in the UK which have undergone contract completion in the last three months. This data set, therefore, covers all homes which have been newly purchased and moved into. In the three months to July, there have been 290,811 contract completions across the UK.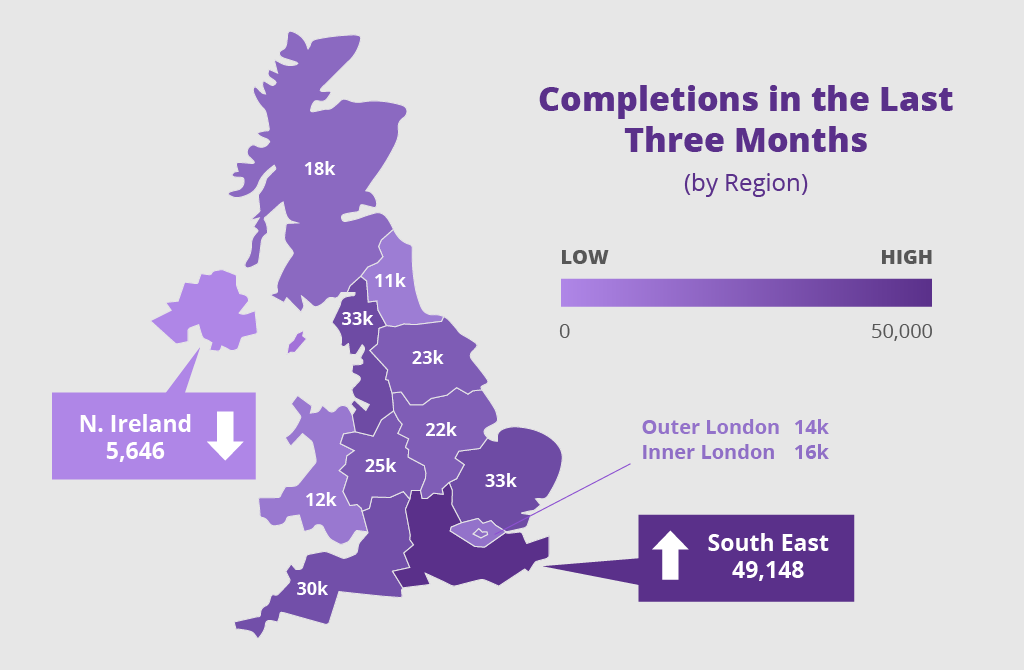 In July, completions have slowed further, decreasing by 2.51% in the 3 months to July compared with the 3 months to June across the UK. Scotland bucked the trend with a 4.07% increase, and smaller increases were also observed in Northern Ireland and the West Midlands.
The homemover audience represents a large opportunity for many businesses, from the retail sector to utilities and insurance. Homemovers spend an average of £42,000 on goods and services related to their move in the months before and after moving house. As property and homemover data experts, TwentyCi can help you tap into this large, high-value audience. Get in touch to find out more.