Homemover Pulse: UK Property Market September 2023
By
TwentyCi
·
3 minute read
Welcome to our Homemover Pulse for September 2023 where we provide an overview of the current UK residential property market and deliver insights into homemover activity. With the UK's most extensive and sophisticated homemover database, we capture residential property information throughout every phase of the home-buying journey. Let's jump right into what's happening this month…
---
Property Market Summary September 2023
Currently For Sale: 640,016

Sold Subject to Contract: 422,370

Completions for the last three months: 203,588



---
UK House Price Growth
The average house price for a property in the UK is £279,569. This is a 4.6% decrease in the average price since last year.
According to the Halifax House Price Index, "Income growth has remained strong over recent months, which has seen the house price to income ratio for first-time buyers fall from a peak of 5.8 in June last year to now 5.1. This is the most affordable level since June 2020, and will be partially offsetting the impact of higher mortgage costs."
The full Halifax Price Index report for August is available here.
---
Mortgage Insight
We are now 12 months on from Liz Truss' disastrous mini budget during her ill-fated term as Prime Minister. Whilst having a significant impact on the wider economy, consumer confidence was also undermined. The sudden interruption this caused has since abated and the property market continues to demonstrate resilience in the face of increasing interest rates and ongoing cost of living challenges.
Property Industry Eye reported that it is anticipated that the majority of the UK's biggest mortgage lenders will lower mortgage interest rates this week in order to generate new business. According to Zoopla, housing affordability should start to improve if mortgage rates are reduced. This is due to wages rising faster than house prices.
Alongside this, 40-year mortgage terms are helping more people get onto the ladder. This week, HSBC has joined the other big high street lenders to supply this four-decade long-term. NatWest offered the 40-year mortgage last April, followed by Halifax, Barclays, TSB, Santander and the Coventry, Nationwide and Yorkshire building societies. Another positive move for the property market.
---
The Current State of the Owner-Occupied Housing Market: September 2023
At the time of publishing, there were 640,016 residential properties for sale. This is 5,162 more properties than reported in our August Pulse.
There were 4,657 fewer properties Sold Subject to Contract than in August (422,370 compared to 427,027). However, exchanges increased with 11,233 more properties exchanged in June, July and August (203,588) compared to May, June and July (192,355).
The key stages of the home buying process have been broken down by stages and regions below: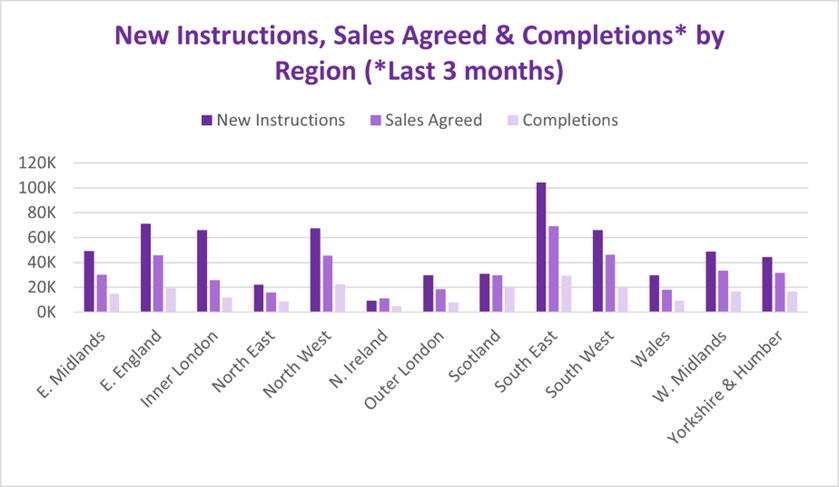 ---
Current New Instructions
Our new instructions data covers all residential properties in the UK that are currently available for sale. At the time of publication, there were 640,016 residential properties available for sale across the UK.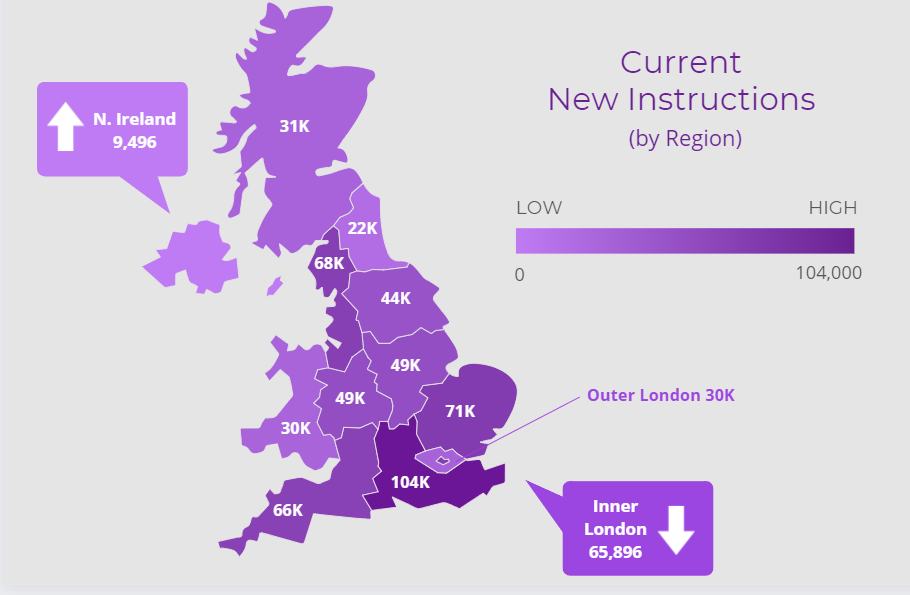 In September we traditionally see a post-vacation uplift. This is evidenced by the 1% increase in new listings compared to August. This month, the South East took the lion's share, with 104,319 properties currently for sale. This was followed by the East of England with 71,198 for sale. The North West secured the third spot with 67,669 followed by the South West at 65,950 and Inner London closely behind at 65,896.
---
Current Properties with Sales Agreed
Our sales agreed data includes all UK properties that have entered the Sold Subject to Contract stage and are currently in the process of conveyancing, moving towards completion. These figures can serve as an indicator of present demand, showing the stage at which people are currently positioned in the moving journey.
At the time of publication, 422,370 properties across the UK have sales agreed.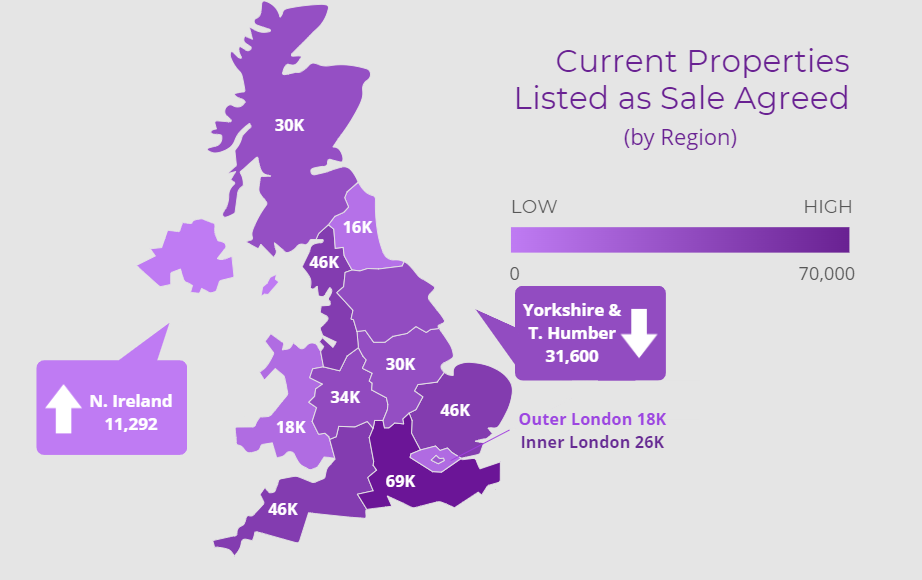 Here are the top five regions with the highest number of properties reported as Sold Subject to Contract:
South East – 69,398
South West – 46,361
East of England – 45,969
North West – 45,681
West Midlands – 33,599
All the above-listed regions have seen fewer properties Sold Subject to Contract compared to the previous month, however, each only experienced just a 1% fall.
---
Completions in the Last Three Months
Our completion data includes all UK residential properties that have undergone contract completion within the last three months. The dataset includes all homes that have been newly purchased and moved into. For the three months to September 2023, there have been 203,588 contract completions across the UK.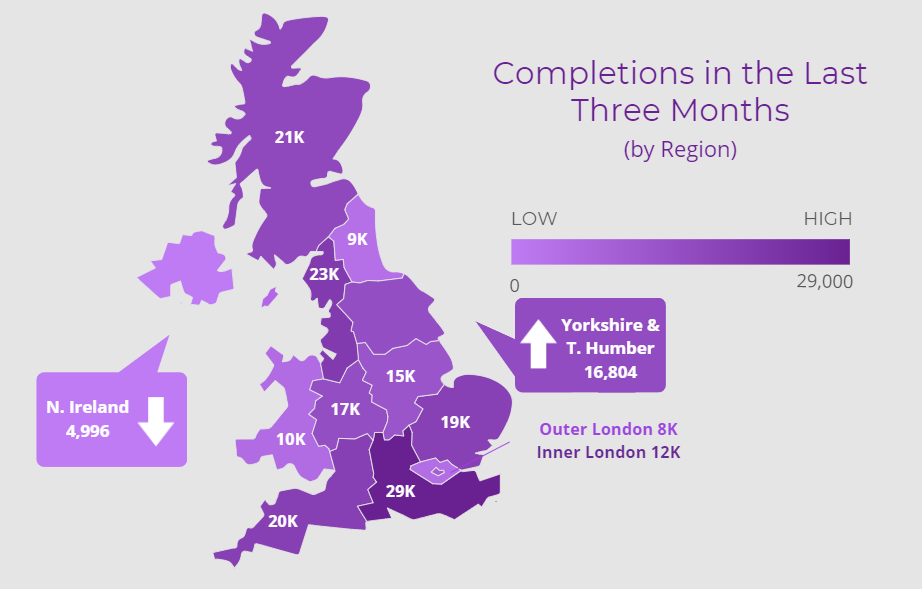 We have seen a 6% increase in the volume of exchanges in the last 3 months compared to the previous 3-month period, with 11,233 more property sales completed. This is just over 200K in total.
The South East remains the highest-performing region with 29,355 property completions recorded. This is followed by the second-highest performer, the North West, with 22,541 completions. Yorkshire and the Humber had the largest jump in completions with a 9% rise in June, July and August compared to May, June and July.
Stuart Ducker, Strategic Solutions Director at TwentyCi stated that:
"It's great to see that despite the challenging economic circumstances our nation currently finds itself faced with, the housing market is proving to be resilient. In contrast to the stock shortage that we observed in 2021 and the first three quarters of 2022, there is now significantly more choice for buyers, particularly at the mid to high price levels.
Whilst availability of housing stock for sale is increasing, we recognise that the affordability of this stock has worsened over the past few months. We remain hopeful that increasing competition for new customers by UK lenders will in part ease this burden on buyers. After all, private renting has become significantly less financially attractive over the last few years with rents higher than they have ever been.
If buyers can afford the monthly payments of current mortgage interest rates, it's a great time to buy as the longer-term outlook for UK house prices remains positive due to the general lack of housing stock."
Subscribe to receive the Market Pulse in your inbox below:
Leave a comment