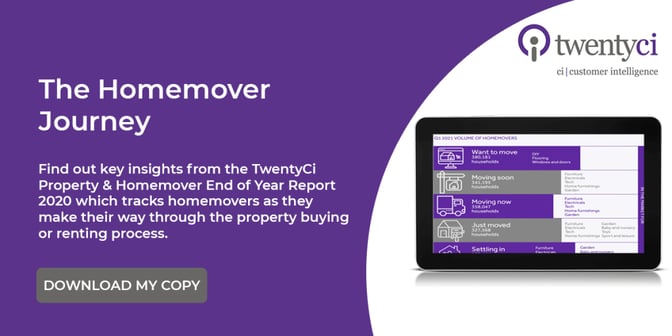 Despite what has been an incredibly difficult trading year for many sectors and categories, the volume of people moving home is actually up 20% year on year. TwentyCi's unique data sets based on real-time real-world data show that the appetite to move home is stronger than ever fuelled by low interest rates, a Stamp Duty holiday and for many, a change in their choice of location.
Our data tracks homemovers as they make their way through the property buying or renting process. Known as the Homemover Wave, this journey can last several months and is broken down into the specific stages and triggered by activity such as online property searches, surveys and EPC reports. Compared to last year the number of people in the home moving journey is up by nearly 20%.
Harnessing this data for targeted marketing campaigns can bring huge gains and strong ROI across multiple sectors and categories, particularly in times of uncertainty.
A homemover is the most valuable consumer group on the planet during the period of moving; Aviva estimate that over £12 billion is spent by homemovers each year in addition to the value of the transaction.
Post lockdown #1 the surge in the residential property market has raised the volume of households moving through the homemover funnel to unparalleled levels.
Download our latest Property & Homemover Report to read about what's been happening in the property market in 2020 and the volumes currently in each of the move stages.
Get in touch with us today to find out how you can embrace the power homemovers can have on your business.
---
TwentyCi | enquiries@twentyci.co.uk | 01908 829300